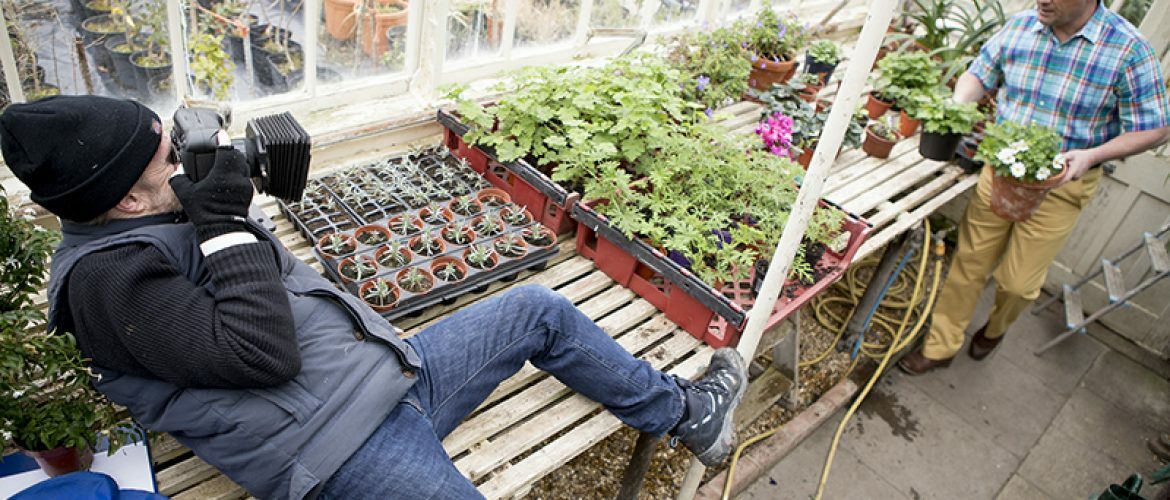 Behind the scenes at a menswear location photoshoot, day 1 of 2.
Day One: Firle Place, Firle
It's a cold, grey, dark February morning when we meet at the gates of Firle Place in Sussex to start a two day catalogue shoot for gentleman's outfitters Peter Christian. One look at the sky tells us it's set in for the day. We're shooting for spring – bright sunny days and short sleeves!! I'm stood here with three layers and a padded jacket, already feeling the cold. We're predominantly shooting in the grounds, and whilst it's going to be a technically challenging day for us, at least we won't be spending the day in summer shirts like today's model, Steve (they spared the shorts as we were shooting a little earlier in February this year – cold comfort!)
We're shown to our base for the day by Peter the butler – we're next to the kitchen, a good sign! We head off on a recce. Although we're not shooting inside the house much today we take the opportunity to marvel at the grandness and beauty of the great hall and Italian room. We also take a peek in the billiard room that we will be shooting in at the end of the day. Out in the grounds we start to earmark good spots for each of the 18 outfits on the day's shot list. One of the biggest problems shooting outside in the wrong season in the UK, aside from the adverse weather, is the lack of foliage and plants at this time of year. Think spring, flowers and new foliage – we've got no leaves on the trees and barely a flower in sight. The same goes for shooting Autumn/Winter – you are shooting through the height of summer – too much light, heat and lush greenery to pass for a cold, wintry day.
Having decided on a plan and shooting order for the day, it's time for the first shot – a Hawaiian shirt to kick us off. We've been here an hour, and if anything, the natural ambient light has diminished. It was obvious from the start we would have to light every shot – the brief is for sunny, spring-feel images. Out with the battery packs and sunlight reflectors.
A good way to mimic sunlight with a strobe is to position the light head diagonally behind the model, relatively high and bounce back to fill shadows. We don't need masses of power from the lights as we will be shooting fairly wide open so we are using Bowens travelpaks with 500 watt gemini heads – we tend to favour Bowens for its reliability and rugged build. Our gear gets put through its paces day in, day out and while it may not be the sexiest looking kit, it certainly lasts! We plan to use our ever-movable sun on every shot for consistency.
So with lighting set and model in position we go about balancing the flash with the ambient – we want to isolate the clothing from the background so as mentioned we will shoot fairly wide open – F4 as standard, going down to 2.8 if we can get away with it.
Meter readings taken by Ian my assistant, and colour checker reference shot taken, I start to shoot, not only checking Steve's pose but consciously avoiding any unwanted leafless trees or dead foliage in the background. I like to mix angles on every shot, so shoot low and high!
With the first shot in the bag we all relax a little – it's always a relief to see you're going to get the required results in less than ideal conditions.
We start to work our way through the shot list. It's essential to have a plan and saves so much time moving from location to location – the elements are enough to deal with on a day like this. Sometimes a spot you thought would be fantastic when framed just doesn't work – with this number of shots you need to think on your feet and move on – there's no point labouring a shot that just won't work.
The grounds are large and although we've prepped as well as possible, there's a lot of legwork involved so we travel light, but it's still a fair amount of gear to drag around! The last thing you want is to be shooting five minutes away from base and suddenly in need of a camera battery, clamp or gaffer tape when everything and everyone else is set.
Each shot has its own challenges, but for the bulk of the day the light remains fairly constant. Thankfully, there's no wind or rain; conditions we are far too used to working in. As well as being on hand on a shot to shot basis, Ian is also busy downloading all the memory cards to laptop and processing the images as we go, for delivery to the client at the end of day two.
With a mostly consistent lighting setup, we were able to accomplish a lot of different shots with a unifying aesthetic which belied the rather miserable conditions. We finished the day with a bit of frivolity in the billiards room and left Firle Place with Peter the Butler's fond farewells ringing in our ears.