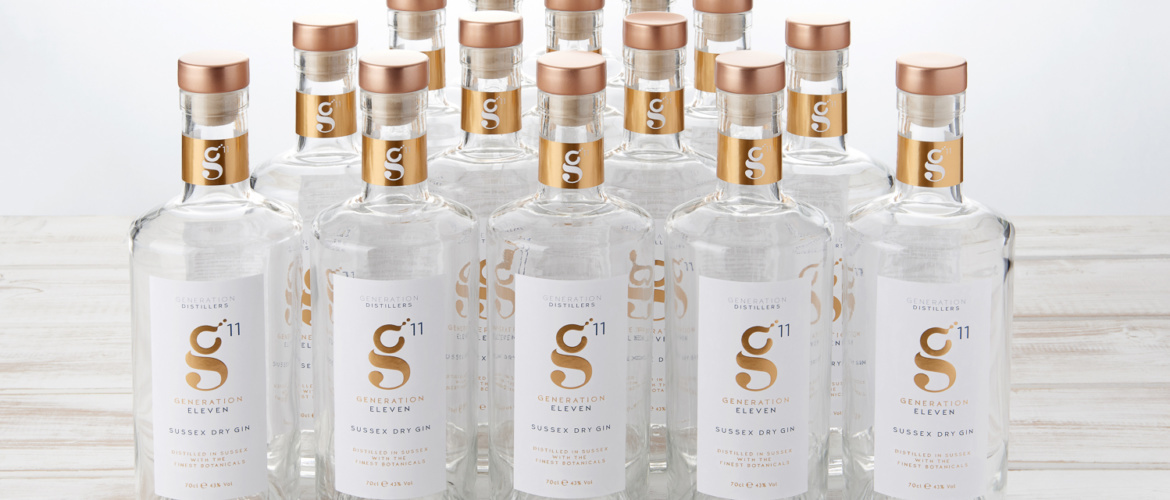 Case Study: Generation Distillers
Generation Distillers are drinks producers from Sussex. They are a husband and wife team and launched their Sussex gin in May 2018. They now have a range of gins on the market and are passionate about quality ingredients, great flavour and local sourcing.
Their aim is to bring to people a gin that is enjoyable and accessible — they want customers to be able to taste and identify their botanicals — there are no secret ingredients.
They source as much as they can locally or by supporting other local businesses. Their botanical supplier is down the road, their English coriander is grown two villages away and their lavender comes from just across the county border in Kent. They have re-commissioned their artisan well and they draw the water in small batches so that they can use every drop in their handcrafted gin.
They run their small distillery in an old outbuilding on their property allowing them to combine their passion for gin and family life. They hand bottle and label all the gin themselves.
They have developed a recipe that blends eight botanicals beautifully into their premium grain spirit together with pure water from their Sussex well so when it came to photographing their beautifully presented bottles of gin it was really important that the botanicals were included in the photography.
We were approached by Generation Distillers to produce a range of both lifestyle and product images for their website and marketing purposes. As an independent small business, budget was paramount and we worked closely with Claire to maximise their half day booking to get the most variety and number of images. Before the shoot a detailed shot list (in priority order) was created together with any props/backgrounds needed as well as some style guidance – we encourage clients to create a mood board of shots/styles they like (and sometimes what they don't like!).
On the day of the shoot Claire arrived well equipped with a vast array of props, always a help to have more. We supplied all the backgrounds from our own prop store. Their first priority was to get a bank of cutout (white background) images of their signature Generation 11 bottle.
Now, the mere mention of photographing glass bottles is enough to bring a moan to anyone that has tried — it's up there with chrome or lighting in the technical stakes. It is not only transparent, it's reflective in all directions. Bottles also lack any defined edges to give them form, and then there's the label! In this instance, white and foiled – more reflections. As gin is completely clear there was no need to create a highlight on the bottle (as, for example, a red wine bottle) so we lit entirely from behind. We will quite often take a selection of shots to comp together in post production – in this instance separate images were captured for the bottle, label, neck band and cap.
So, while I started on the complex setup for the bottle shot, Claire set about matching backgrounds, props etc to enable us to move swiftly onto the lifestyle images. We worked like this for the afternoon to create in total a set of 72 unique images. Once onto the lifestyle sets, whilst still tricky, the lighting on the bottles could be a little looser as more is naturally being reflected. Again, having a good number of props and background choices really helps – quite often what you think is going to work just doesn't, so having a substitute on hand is a real bonus and time saver.
We finished the session having some fun with the botanicals used to create some colourful ingredient shots, together with some images for a succulent supplier that had lent some wonderful cacti growing in wooden logs. In all, a very productive shoot and testament to the merits of good planning and preparation.