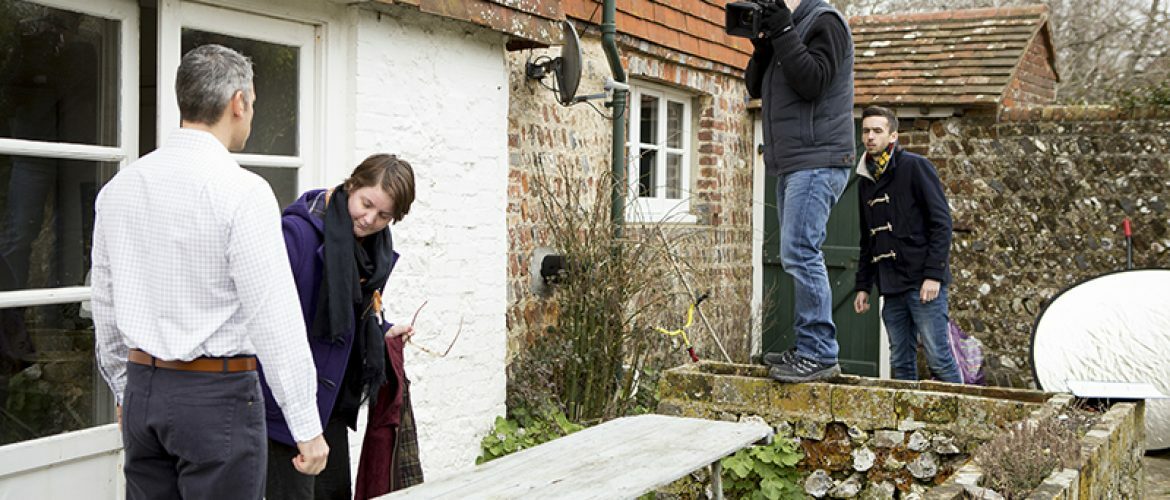 Behind the scenes at a menswear location photoshoot, day 2 of 2.
Day Two: Place Farmhouse, Firle
Conditions are virtually the same as the day before when we meet at the stunning Place Farmhouse for day two of the shoot – it may just be a degree or two cooler.
We have less exterior shots today, but after a quick scout of the house we realise that light is going to be a problem even by early afternoon for the interior shots.
Shooting order planned whilst waiting for crumpets to cook on the aga, crushing thoughts of house-envy are put aside in the name of professionalism.
We head outside and shoot in and around the homeowner's Land Rover, having bumped it into a better position for shooting using the super-strength that only comes with being a photographer. Again using the over-the-shoulder single strobe and bounce fill to simulate spring sunlight, we're able to get the results the client's after.
The client has a desired shot list and example images and we work to achieve these with the location and props at our disposal. It's great to have a relaxed shooting environment where people feel they can give input, as location work generally involves an element of improvisation and suggestions can be useful – an assistant or MUA may have seen a nice spot for a shot around a corner you haven't had a chance to visit.
Our model is a jovial guy and the Peter Christian team are always warm and relaxed which helps when you need to capture 500 genuine-looking smiles on camera on a cold winter's day. Whilst you have to focus to meet the brief in time, a relaxed, friendly atmosphere on location goes a long way to keeping enthusiasm and productivity high.
Having completed our exterior shots by lunchtime, we stopped to refuel. It might have seemed sacrilegious to eat crisps and scotch eggs in these elegant surroundings, but they were Waitrose finest so we got away with it.
A shot at the base of the staircase framed up beautifully and had great directional natural light, but there wasn't much of it, so the tripod came out and our model was required to stand stock-still as we dropped down to around 1/25s. One of many times you're thankful not to be working with fidgety children or animals!
Shooting in the large dining area mid-afternoon, we were once more fighting a losing battle with ambient light, so we took two Bowens heads outside to light in through the windows as faux-sunbeams, one for our model and one for the background area of the shot. We triggered these as slaves with a third head whose light would not enter our shot. A large scrim placed inside against the window eliminated shadows cast by the metal panes on our model's face and body.
As this was the final day on location, my assistant Ian was busy processing the images from both days in Lightroom whilst we continued shooting through the afternoon. A healthy supply of memory cards and intermittent swapping in and out of camera make this feasible and time-saving. Adjustment presets which meet the client's requirements can be copied across to each new batch of images and then details such as highlights or white-balance can be tweaked if necessary before exporting.
At the end of a busy, tiring, but successful shoot, we were able to hand all processed images from both days directly to the client on a portable hard drive, pack up all our equipment and drive away from the location by 6pm…. straight back to the studio to spend the evening working on another commission. It's got to be done if you want the finest scotch eggs!