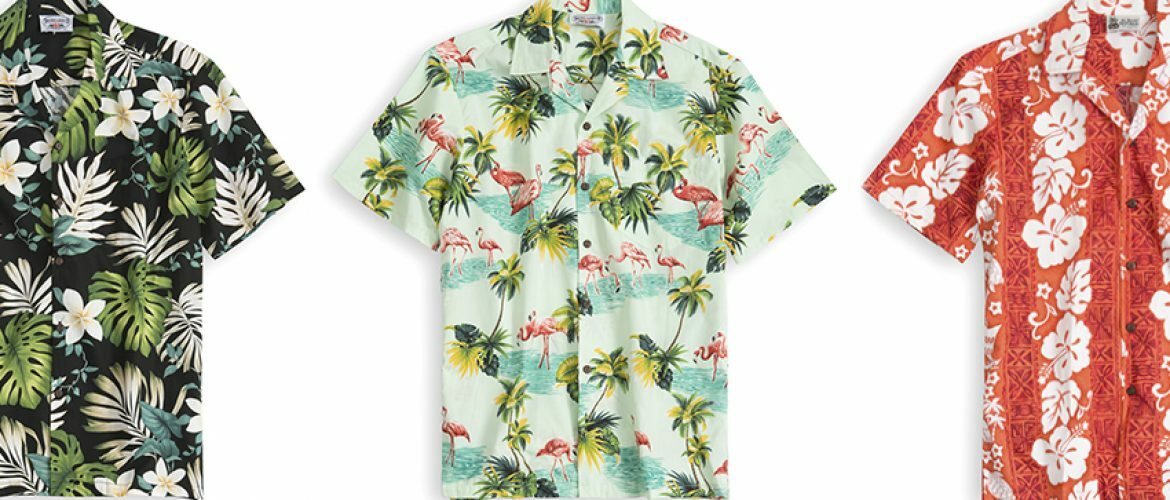 Hawaiian Shoots – Flat Lay Photography for the Hawaiian Shirt Shop
It's not very often that you're allowed to wear pink, red, orange and purple all in one go, without being pointed at at in the street. Or to sport multicoloured parrots, beer bottles and palm trees as an everyday outfit when you can't quite decide what mood you're in. But somehow, sometime in the 1920s, those cuckoos in Hawaii (apparently with some help from Japanese, Chinese and Filipino settlers) decided that what we all needed, was a shirt that told a story about our lives and our loves. Maybe the sun and margaritas went to their heads, and off flew the traditional hats, so to speak, and in came the still fashionable and world renowned Hawaiian shirt. Aloha!
They're described by some as being the most polarising garments around – that's a polite way of saying you either love 'em, or you hate 'em. Usually clothing photographers judge how much they appreciate a garment by how well it fits their invisible mannequins, or how well it lays flat before creasing like a piece of tissue paper, but this time was different. Each shirt brought us a new gasp whether in pure disgust, secret lust or open admiration. 
But a funny thing has happened – after shooting all 40+ of these colourful numbers, the ones we first looked at with distaste, we secretly now all want to keep. It's as though we've been desensitised to the onslaught of intense colour explosion and we've seen the real light. Behind the superficial splurges of clashing reds, jungle greens and bright pink ukuleles, we've found a longing we never knew we had. From photographer to studio manager and retoucher – we all unashamedly want a piece of this action. 
Most often than not, we are way too un-cool to want to wear or keep any of the designer goodies that come through our studio. We like to think we're trendy and up-to-the-minute, but in truth, we have been known to put an Alexander Wang dress on back to front, or to inadvertently invert a Valimare bandeau bikini top. Well they didn't have labels in them, and nobody told us that the shirt sleeves were actually the belt. But I digress. These bad boys are the new cool. Just putting one on (Simon, I promise we were careful and I didn't spill my lunch down my front) makes it impossible to be in a bad mood. It also makes it impossible for anyone to take you seriously whilst in our chic office environment (Pah!), but that's beside the point. 
Key to any style of clothing photography, even when 'natural' creasing is called for, is to remove as close to all creasing as possible. We use industrial sized steamers, as it's a damn site quicker and safer than dragging an iron across your clients prized clothes. Each item is prepped and hung, preferably the day before we shoot, to make the photography process as s(t)eamless as possible. 
These flat lay items were in fact shot at a 45 degree angle against a polystyrene board – a closely guarded secret to much of our flat lay photography. Why? Largely because we want it to look as though it's flat, but with some natural creasing and hang to it. So the 45 degree angle is in-between the two. And the less secret part is that it's just less back breaking than going up a ladder for each shot on a large overhead setup. Why polystyrene? Well, it has a bit of purchase – the shirts don't slip off entirely, nor do they stick. So we can manipulate them to a degree, and even pin directly to the board if necessary, which is nifty. 
Consistency is key in all clothing shoots, but particularly when every item is the same shape – when you have 3 or 4 items all next to each other, each with a different shape and style your clients will be left wondering if they are meant to be like that, or just shot by a bunch of amateurs wearing Hawaiian Shirts. To maintain precise consistency, we'll spend some time creating a shape we're happy with, then we'll mark out key points on our board – in this case shirt length, shoulder, collar and arm shape. Any minor wobbles can be dealt with in post production, but don't be lazy – a stitch in camera time saves 9 in photoshop. As always, colour cards, accurate light metering, and decades of photographic experience finish the job. 
Next time you're unsure about what to wear to work, take a moment to consider the humble Hawaiian Shirt, and pay our new friends at the Hawaiian Shirt Shop a visit. We're thinking of commissioning a new shirt just for the PF team. Cocktail Anyone…?

I had been meaning to have the shirt's professionally photographed for the last 5 years, but never got round to it. I wish I had. The photo's have enhanced my website hugely and helped to increase like for like sales on last year.
Would highly recommend Helen and team.
Thank you.
See what our other clients are saying
here…