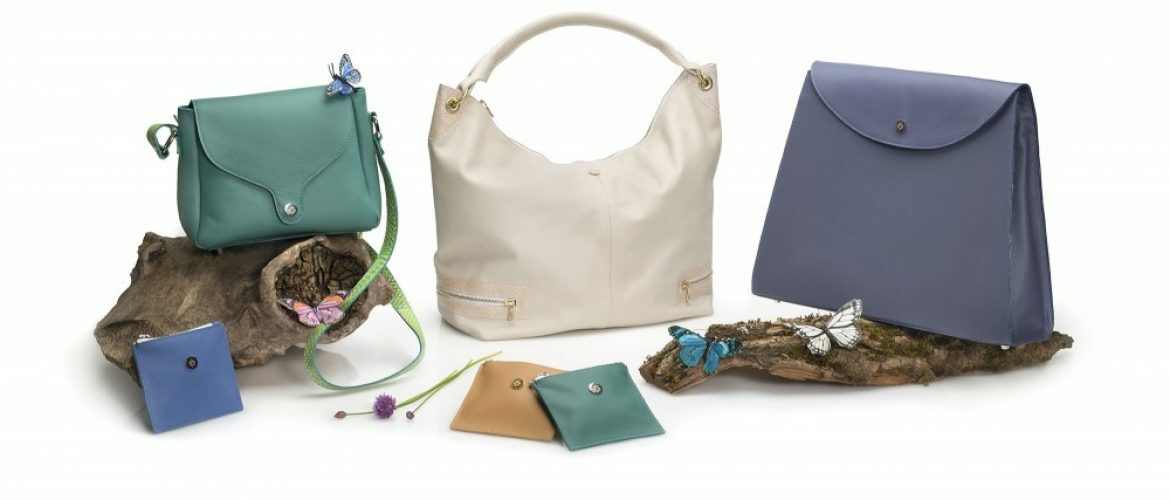 Bags of character – Shooting C. Nicol's first collection
Every month we offer a couple of new businesses or young enterprises a start-up discount on our services to help them get under way. We know from experience how expensive it can be creating a fitting showcase for your business (this snazzy website didn't come cheap), but as photographers, we obviously want to advocate the advantages of doing things professionally and are happy to help where we can, offering substantial savings for brands with unique, high quality, local products and services. 
C.Nicol is a British new heritage brand offering luxury leather accessories. The collections comprise clean, classic shapes with an edgy dash of colour contrast throughout selected styles. Sourcing British materials and manufacturing in the UK is key to the brand's ethos – each bag is made using British leather and salmon skins and is sewn together in a factory in London. We love that the lining artwork changes each season, commissioned from British illustrators, graphic designers and artists and printed in London. Designer Cathleen asked us to shoot her first collection of small shoulder bags, clutches and large handbags. In typical product photography fashion, we wanted clean, white backdrops to emphasis the elegant, crisp aesthetic of the items themselves and allow Cathleen to cut the images out should she need to for future uses. We did however want a little real-world context so we sat the items on white perspex for a subtle reflection at their immediate base. A reflection can also add a certain high-key sheen often associated with luxury products.
This BTS photo shows that a high-end look doesn't necessarily rely on a high-end space – Our main studio was in use for a fashion shoot, so we set up in one of our smaller product studios next to our offices.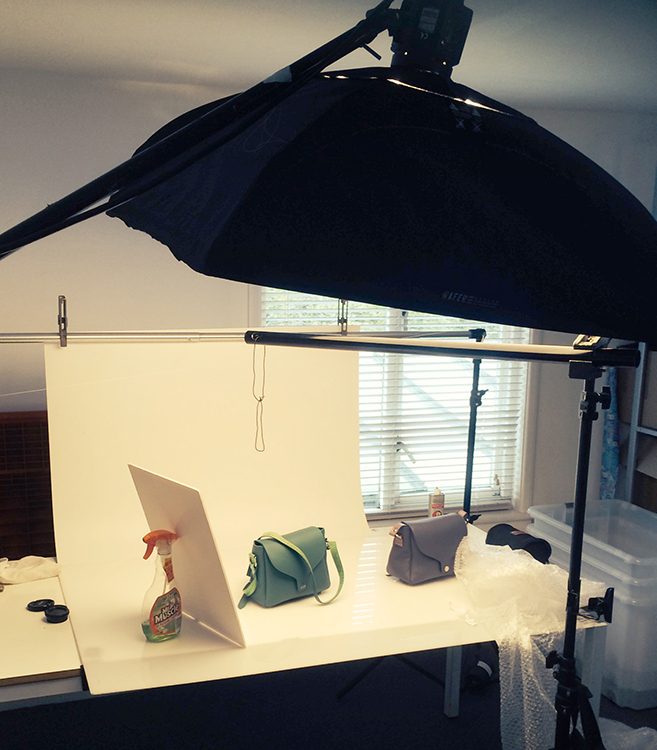 Imperative to this type of photography is representing the items accurately – customers shopping on the web need to know the item looks essentially the same online as it will when it arrives on their doorstep (Royal Mail not withstanding!), so we ensured our colours were accurate using a colour checker and consistent, top-down lighting. A large softbox above and angled slightly towards our products provided our key light, with reflective card used to bounce in a little fill in desired areas. With consistent, straightforward lighting and the camera fixed on a tripod, the key was arranging the bags and their straps in a pleasing composition and replicating it across the range. A little tape was used to keep the flap of the bag tight to the body where necessary, eliminating any large shadows, whilst bubble wrap padded out the bags to give them a pleasing three dimensionality and shape.
As we often do, we emailed a couple of test shots with slight edit variations to the client, who was at the time in Dubai. Having confirmed what she wanted (nothing overly contrasty or falsely punchy), we set to work shooting each item and applying a little post processing to remove dust and further whiten our backdrops. Cathleen very politely requested that if we have enough time, we shot a pack shot with all three types of bag, and having already briefed us on her brand identity, we raided our large store of props and composed an appropriate scene. With the limited space afforded by the product studio setup, we were now wishing we were a little further from the office and its biscuits and closer to our main studio's 3m Colorama backdrops, but a little post-processing can go a long way and Cathleen loved what we were able to cook up on the (butter)fly…
The final thing we had to shoot were the beautiful interior linings. Since our key light was already positioned above, we simply had an assistant pull open the bags using a little wire wrapped around the front clasp and hand-held our camera to shoot inside, before cropping out the offending wire in photoshop – Sometimes the most lo-fi solutions are the best!
For time-saving workflow secrets, including more used in our C. Nicol shoot, check out our previous blog, Don't Stress… Post Process and for some useful guides, see 10 tips for better product photography.