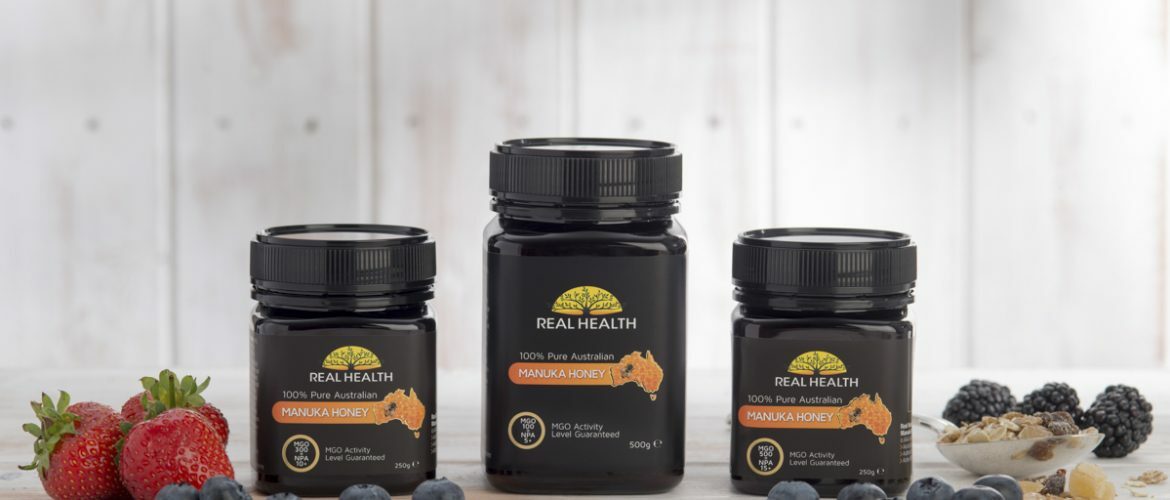 Honey, I Shot the Lids….
…and the jars and stuff…. err, ok, sorry about that. (Classic film though! AND there was a bee scene in it so, you know, relevant…) Anyway, we realised we had a pretty sweet deal on our hands when Real Health asked us to shoot their 100% Pure Australian Manuka Honey for advertising in Boots' glossy Health & Beauty magazine. Not just delicious, but considered to have genuine health benefits, including antibacterial qualities, this produce of our stripey friends who pollinate the native Manuka tree is checked twice by an independent, accredited laboratory to guarantee its quality and MGO content (strength). Understandably, it has a price tag to reflect both its premium quality and the care taken to source and package it, so we knew we'd have to get busy to produce the goods.

Shooting in our main product photography studio, art direction was carried out in-house. Our clients wanted to emphasise the healing and medicinal qualities of Manuka, so we chose props which reinforced this message. Berries and grain are natural, delicious products that share positive, healthy associations and beautifully complement the honey in both the studio and a cereal bowl (A pro's top tip is always eat a decent breakfast before photographing food or you may find your shot options decreasing as you steal more and more of what you're supposed to be documenting…. or just have a little self-control. Whatever works for you!) Tissues, scarf, cinnamon sticks and hot lemon drink suggested a cold or fever about to be shuffled along by the healing honey. Giving real world context to your subjects is one of the most important aspects of styled photography. As well as creating a visually pleasing tableau for the eye, showing a potential customer the applications of a product subconsciously reinforces its purpose and desirability. For more on the importance of styled photography, check out our recent blog here.
The inclusion of wooden surfaces and relatively muted tones chosen in the backdrops and the majority of the props simultaneously reflect a clean, wholesome, naturally rustic aesthetic, whilst accentuating the bold, vital, strong nature of the main subject. Visually it's clear who the boss is and semiotically, the message is delivered – Real Health Manuka honey is powerful stuff.
Using a fixed perspective from a tripod and without moving our subjects, we were able to shoot slightly different exposures of the same image, ready for comping together during the retouching process. By adjusting light intensity and controlling reflections with bounce cards and light flags, we captured the jar in the best light possible, then dropped it back into its evenly lit surroundings in Photoshop. Another area where a little retouching magic was applied was in capturing the runny nature of the honey, a USP of the brand (it definitely makes it easier when you don't need a pickaxe to get your honey out of the jar first thing in the morning!) Capturing various shots of the stick, pooling and pouring honey over a nice wipeable surface (it was actually an assistant laying on the floor with their mouth wide open), we had options for comping them into scenes later, without risking covering our carefully arranged motifs in sticky goodness. For some practical advice on best approaching a tricky shoot, check out our blog, Don't Stress…Post Process.
The final thing to mention is that we had strict guidelines as to the eventual image dimensions for editorial use, so we arranged and shot our scenes accordingly. It's important to read your brief carefully or discuss with your client exactly how your work will be used and at what size if you don't want to see a Picture Editor taking a virtual axe to it later.
Thanks for reading, now beeee on your way (oh come on, as if there wasn't going to be a pun somewhere…)
Click here to see our Lifestyle Product Photography gallery and read about our services